Are you managing a remote team in 2023, but concerned that you might be missing vital tools to keep your collective productivity humming?
Look no further than this post to discover the top productivity tools for successful remote team management. From automation services and communications platforms to project tracking software, we'll review all the essentials required for optimal collaboration among distributed teams.
Now is the time to take control of your remote team's success by learning about these invaluable resources and incorporating them into your organizational toolkit!
As remote work continues to grow, remote teams are in need of improved management tools that will allow them to increase productivity and stay connected. In 2023, the remote team management field is more competitive than ever before! There are plenty of remote tools available that can help remote teams stay productive and organized with much ease.
Tools for Remote Team management
1. Trello
Trello is more than just a project management tool; it's an invaluable asset for remote team managers. With its flexible design and engaging features, Trello helps you keep track of all your projects from start to finish – content production, sales pipelines, daily tasks, or long-term goals.
Trello is a Kanban-style project management software that's one step ahead when it comes to customization. It even offers a powerful new automation feature called Butler, allowing users to quickly and easily automate their workflow in Trello while giving them the ability to integrate with almost any other platform they're using. With its great community and automated features, you can streamline your projects like never before!
It also makes collaboration easier by allowing team members to be added to different boards according to their involvement in the original project and keeping everyone updated along the way!
Key Features
-Trello is a cutting-edge platform, that provides users with an array of amazing features.
-These include Board View
-Timeline View
-Calendar View
-Customized Templates Library and Simple UI
Pricing
Trello offers free usage for a limited number of users, and then pricing ranges from $5 to $17.50 per user/month if you pay annually.
Benefits of using the Trello tool
– Keep track of all your projects from start to finish.
– Collaborate easily with team members.
-Stay updated on project progress.
– Feel in control of your remote team's success.
– Enjoy the flexibility Trello offers.
2. TalentDesk.io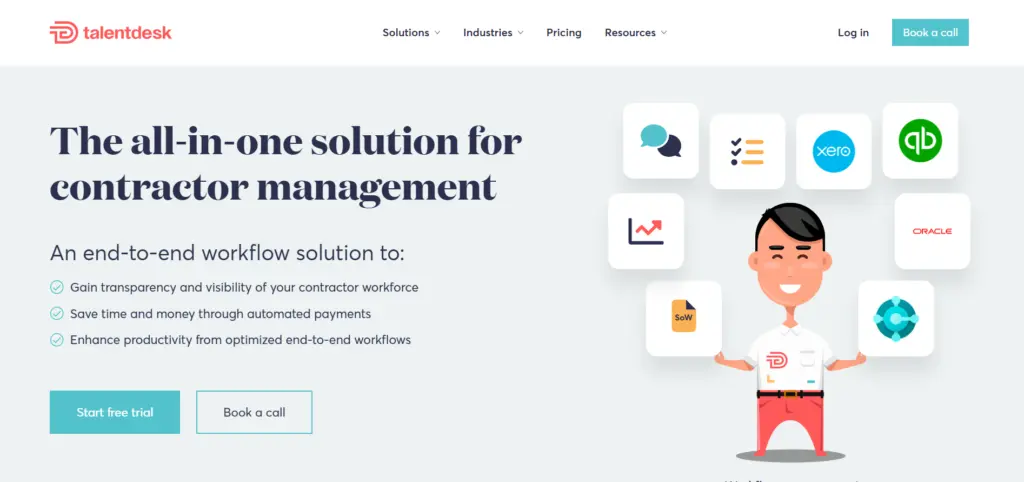 Keeping your remote workers productive and organized is essential, but it doesn't have to be a challenge. TalentDesk.io offers innovative solutions that make managing the entire talent pool simple, even when those people are spread across different geographic locations!
With powerful filtering tools for finding ideal employees quickly, as well as access to over 1.5 million qualified freelancers in PeoplePerHour's platform – having the right team members on board has never been easier or more accessible.
TalentDesk.io helps teams collaborate more effectively, enabling them to stay on top of project timelines and budgeting with visibility across their entire team.
Automated invoice processing reduces administrative time so managers can focus more energy on managing tasks that save both money and resources in the long run by unifying multiple capabilities under one platform instead of investing in various tools – saving users from juggling an array of systems throughout busy projects!
Key Features –
-Customization
-Integration APIs
-User, Role, and Access Management
-Internationalization
-Mobility
-Reporting
Pricing:
If you're in search of a software solution that meets both your budget and specific requirements, TalentDesk.io has the perfect plan for you! With 3 pricing editions ranging from $49 to $399 and a free trial available as well, it's easy to find the right fit – explore our options below today!
Benefits of using Talentdesk.io
-Benefits of using TalentDesk.io include the ability to quickly and easily find the right remote workers for a job
-streamlining remote team collaboration.
-TalentDesk.io provides powerful filtering tools that help managers locate ideal employees quickly and easily from over 1.5 million qualified freelancers in PeoplePerHour's platform.
3. Slack
Effective communication is essential to running a successful remote team, and Slack offers just that. Through its all-inclusive messaging system and team collaboration tools, you can set up channels (chat rooms) for any area of your business – chat in private or with the whole group instantly!
Plus, it has various file-sharing capabilities so everyone stays connected even when apart. Moreover, connect other top apps such as TrelloSalesforce and Google Drive directly into Slack's platform – making sure productivity doesn't suffer while working remotely.
Key Features
By utilizing the powerful app integrations and intuitive workflow builder of Slack, you can experience a whole new level of productivity.
-File Sharing
-Notifications
-Search
-Mobile Application
-Web Application
-Integrations
-Audio Conferencing
-Video Conferencing
Pricing
For those who would benefit from the groundbreaking features of Slack, there's a free plan that they can take advantage of. Further, if you choose to pay for the service by opting in for an annual subscription program, plans start at only $6.67 per user/month and go up to $12.50!
Benefits of Slack
– Communicate with team members quickly and easily.
– Stay updated on project progress.
– Store and share files easily.
– Connect to other productivity tools.
– Feel more connected to your remote team.
– Enjoy the ease of communication Slack offers.
4. Google Drive
Remote teams can find new freedom when using Google Drive. This app, available on both desktop and mobile devices, synchronizes automatically across all your gadgets without any extra effort needed from you! It enables global collaboration – meaning everyone in the team stays up-to-date with each other's progress no matter where they are located.
Plus, it is an invaluable resource for content creators to store spreadsheets or organize via shared calendars and projects together easily.
Key Features
-Gmail
-Calendar
-Drive, Meet, and other Google Suite services
-intuitive User Interface (UI) and User Experience (UX)
-Docs, Sheets Slides, Chat, Keep
-Forms integration for seamless productivity.
Pricing
For a limited period, enjoy our free pricing plans! Afterward, you can select from the range of $6 to $18 per user/month.
Benefits of using Google Drive
– Get remote teams working together quickly.
– Store data and files easily.
– Automatically synchronize across devices.
– Share project progress with the whole team at once.
– Feel connected to remote workers from any location.
– Enjoy the ease of remote Working
5. 1Password
Time is one of the most valuable resources a team can have, and 1Password helps managers maintain it. The tool offers an easy-to-use platform for securely saving passwords and allowing only approved personnel to access them quickly with just one click – eliminating time wasted on having to reset or remember who has permission for which accounts!
Plus, its two-factor authentication feature also provides extra security for remote teams.
Key Features :
-Our customizable vaults provide both Password monitoring and Travel Mode for your security needs on the go.
-Quick Login, Browser Extension,
-Mobile App Usability,
-Multi-Device Use
-Admin Management
-Travel Mode: Keep track of all your passwords, no matter where you are in the world!
-Password Generator
-Two-Factor Authentication, Security Audits
Pricing:
Pricing starts from 19.99$ for teams which is a basic plan get this and gain access to Desktop, Mobile apps, unlimited shared vaults, and items! No more worrying about limited resources or going over the budget—now you can confidently secure up to 10 members for one low price.
Benefits of using 1Password
– Securely save passwords with just one click.
– Quickly and easily access needed accounts.
– Eliminate the need to reset or remember who has permission for which accounts.
– Feel more secure with two-factor authentication.
– Keep remote teams productive and organized.
– Enjoy the convenience of 1Password's time-saving features.
6. Kickidler
Kickidler is the perfect solution for busy businesses looking to streamline their productivity. This automated time-tracking tool eliminates the need for messy employee spreadsheets, providing an instant snapshot of personnel performance and internal discipline with no extra effort required on your part!
Managers can get a bird's-eye view of their team with Autokick: the feature rates employees send notifications for workplace violations and provides self-monitoring tools to allow everyone to track progress throughout the day.
All this plus in-depth analytics creates an optimal working environment while keeping productivity goals a top priority!
Key Features
-screen video recording
-Autokick, keystroke logging
-comprehensive productivity analytics
Pricing
Licenses for users can be gained at the rate of $3.67 per month for a duration of 3 years, and up to $9.99 per month if you're looking to opt-in only on a monthly basis! For those who are interested in something longer yet not as long term as three years, we offer yearly ($5.50/month), 6 months ($6.67/month), or 3 months options($8.33/month).
Benefits of using Kickidler:
– Automated time tracking eliminates the need for messy employee spreadsheets and provides an instant snapshot of personnel performance.
– Autokick rates employees, sends notifications for workplace violations and provides remote teams with self-monitoring tools to track progress throughout the day.
– In-depth analytics create an optimal working environment while ensuring productivity goals are met.
– User-friendly interface makes the software easy to use, even for remote workers who may not be tech-savvy.
7. Asana
Asana is the perfect remote team management tool for remote teams looking to get organized and stay productive. With Asana, remote workers can collaborate in real-time on projects and tasks, tag their teammates so important conversations never get lost or buried, assign due dates for each task to keep remote work on the track, store files securely in one place, plus receive notifications when tasks are completed!
Asana is the leading project management tool, simplifying operations for teams of all sizes. This comprehensive platform streamlines workflows with features like task organization and scheduling, and team collaboration tools such as messaging and dashboarding capabilities.
Plus you can sync Asana to other applications through its app integrations; use advanced search techniques from your mobile device or desktop browser; get up-to-date performance visibility with detailed graphs & analytics—all within an intuitive user interface experience!
Key Features –
-writing custom rules, a Timeline View, Board View, Portfolio View, Calendar View, and a Workload view.
-Goals feature as well as Forms & Reports
-seamless integrations with more than 20 applications
-advanced search capabilities & process automation
Pricing
Taking advantage of Asana is easy and affordable! With the free version, you can get limited usage at no cost. To unlock additional features and benefits, prices range from $10.99 to $24.99 per user/month when billed annually – an unbeatable deal for businesses large or small!
Benefits of the Asana Tool
– Seamlessly collaborate in real-time on projects and tasks.
– Tag teammates to ensure important conversations never get lost or buried.
– Assign due dates for each task to keep remote work on track.
– Store files securely in one place.
– Receive notifications when tasks are completed.
– Feel more organized and productive when working remotely.
– Enjoy the peace of mind that comes with knowing your remote team is collaborating effectively and efficiently.
8. Engagebay
EngageBay is a remote team management tool that helps remote teams stay organized, and productive and improve their efficiency. With EngageBay, remote workers can keep in touch with their colleagues and manage tasks with ease. This remote team management software provides a range of features such as Omni-channel communication tools, task-tracking capabilities, and customer service tools.
EngageBay is the ideal CRM and project management system for small businesses. Not only does it create tasks automatically, but its user-friendly interface allows you to easily monitor your team's progress towards a common goal of achieving success on every project. With EngageBay, all members are fully integrated with each other ensuring that everyone works in unison towards completion, growth, and increased revenue!
Key Features –
-EngageBay's drag & drop interface
-task filters, note-adding feature
-adaptable project reports
-Simple and powerful All-in-One CRM
-Easy-to-use marketing automation software
-Email marketing
-Powerful helpdesk software
-Landing Pages
Pricing
Our free plan is available for up to 15 users and our paid plans, starting at only $7.79 per month, offer even more features and benefits!
Benefits of the Engagebay tool
-Centralize Your Business Data
-Know Your Customers Better
-Target High-Quality Leads
-Track and Optimize Your Marketing Campaigns
9.EasySendy
EasySendy Pro is a comprehensive email marketing platform for digital marketers. It offers features like split testing, list cleaning, warmup, and reporting to ensure the optimum delivery of your campaigns.
You can also leverage its autoresponder feature as well as a segmentation tool – allowing you to tailor the perfect message across all channels – email & mobile messaging! In addition, you have access to automated drip triggers giving you an edge when it comes to engaging with customers & subscribers alike!
Easysendy helps modern marketer, small business owner, and tech-savvy entrepreneur reach their full potential with an all-inclusive email marketing solution.
From traffic acceleration to increased conversion rates – you'll have access to innovative tools that will give your online presence the boost it needs while boosting ROI too! Plus, Perfectly crafted templates make designing emails quick and easy – making beautiful campaigns a reality.
Key Features:
-Email and Mobile Preview
-Manage Email Lists
-High-Volume Sending
-Building and Personalizing Emails
-Sending Outbound Emails
-Manage Email Deliverability
-Auto Email Responses
Pricing
EasySendy's free plan gives users access to up to 2,000 connections. Not only is it the least costly option on the market, but also one of the most user-friendly! With EasySendy you can quickly create stunning emails using its convenient drag-and-drop features.
EasySendy Pro provides a range of pricing editions to suit your budget and needs, from the free trial version to an edition costing $199. Explore all five options detailed below and determine which one is perfect for you!
Benefits of Easysendy
With EasySendy, you can quickly create stunning emails using its convenient drag-and-drop features.
-Easily manage your email lists and recipients.
-Get real-time insights on the success of your campaigns.
-Build beautiful emails in minutes with pre-made templates.
-"Auto Email Responses" allow you to automatically reply to customers or subscribers who reach out to you.
With RingCentral, you can have all the tools necessary for effective team communications right at your fingertips. This cloud-based app helps businesses effectively unite messaging, video conferencing, and phone systems in one convenient platform – taking away the need to toggle between separate apps – so that teams are better equipped to focus on what matters most: growing their business.
Key Features
-File Sharing
-Notifications
-Search
-Mobile Application
-Web Application
-Integrations
Pricing
For up to 20 users, The Essentials package provides phone and messaging services for just $19.99! If you're looking for more features such as video calling, unlimited chat, and phone support then the Standard plan is your best bet at a very affordable price of $24.99.
The premium plan is jam-packed with all the features of our Standard package, plus an extra perk – video participation for up to 200 participants! For only $34.99 a month, you can't go wrong. If that's not enough for you though, consider upgrading to the Ultimate plan with unlimited storage capacity and flexibility; locked in at just $49.99 per user on a monthly basis.
Benefits of RingCentral
-Unified messaging platform Phone and video conferencing
-Connect with remote team members easily
-Feel more connected with the remote team
-members Increased productivity
11. Notion
The notion has become an online sensation with its unrivaled note-taking capabilities. Offering users a huge range of templates, clever characters, and user experience design – it truly is the internet's hottest ticket when taking notes to share in teams! Its nifty interface enables integrations that make using Notion fun and efficient.
Notion helps teams and companies around the world stay connected and organized by offering a customizable workspace that merges notes, documents, project management tools, and wikis. With Notion's wide range of features, organizations can collaborate in new ways to achieve better results faster!
Notion Key Features
-Creation & Assignment
-Due Dates
-Task Prioritization
-To-Do ListsDrag & Drop
-Project Map
-Calendar View
-ViewsTemplates
-Permissions
-Knowledge Sharing
Pricing –
Struggling to find a budget-friendly Notion plan that meets your needs? We've got you covered! With 4 pricing editions and a free trial period, there's something for everyone.
Take a look at the various plans below to figure out which one is right for you.
Our services are free of charge for a limited period, then start from as low as $4 to up to $8 per user/month.
Benefits of Notion
-increase productivity
-creation and assignment
-to-do lists
-task prioritization
-project maps
-calendar views
-templates